Affordable Connectivity Program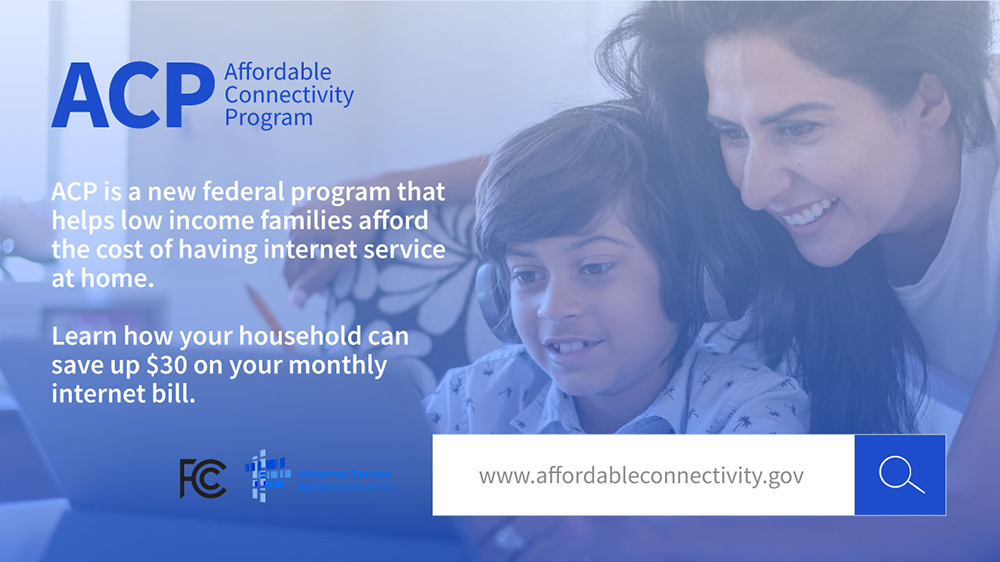 What is ACP?
The Affordable Connectivity Program (ACP) is a Federal Communications Commission (FCC) program that replaces the Emergency Broadband Benefit Program (EBB Program) to help low-income households pay for Internet services and connected devices.
Jackson Energy Authority is an approved ACP provider.
The benefit provides up to $30/month discount for internet service that could result in minimal to no charge for your EPlus Broadband high-speed internet service depending on the package you select. To get started, follow the steps listed below in the "How to Receive Your Benefit" section.
What Internet packages are available?
All EPlus Broadband Internet packages are eligible for the $30 ACP discount including the 100 Mbps x 100 Mbps Internet and Wi-Fi Router with no taxes and fees exclusively for ACP eligible customers. Check out our most popular fiber optic Internet speeds below:
| INTERNET SERVICE: | STANDARD PRICE: | PRICING WITH $30/mo ACP DISCOUNT: |
| --- | --- | --- |
| 100x100 Mbps | $30/mo | $0/mo (no taxes/fees) *Exclusively for ACP eligible customers includes Wi-Fi Router. |
| 60x10 Mbps | $60/mo | $30/mo |
| 300x300 Mbps | $64.99/mo | $34.99/mo |
| 1000x1000 Mbps (Gigabit) | $79.99/mo | $49.99/mo |
View the Packages & Pricing page for bundled services including Cable TV, Internet, and Telephone.
High-speed Internet services are provided as best-effort services. Jackson Energy Authority does not guarantee bandwidth that customer receives. 300x300 and Gigabit Internet are available in upgraded areas. Gigabit Internet is 900x900 Mbps typical wired speeds on capable equipment. EPlus Broadband is a division of Jackson Energy Authority. Free Standard Installation is included. Participation is subject to Jackson Energy Authority eligibility requirements. Certain restrictions and limitations apply. Monthly price shown is available to residential customers only and does not include taxes and fees. Jackson Energy Authority is an equal opportunity employer.
How to Receive Your Benefit:
1. Check If You Qualify.
See if your household fits into any eligible categories. Go to www.AffordableConnectivity.gov.
2. Apply.
Choose how you want to apply and submit all necessary documents. Apply at www.AffordableConnectivity.gov.
3. Download the EPlus Broadband ACP Form in the Resources section below. Complete and submit this form to Jackson Energy Authority using one of the methods below:
Submit online: Visit the CONTACT US page, fill out the required information, select your question topic as "Other" and upload your completed form.
Submit via email: Send completed form to JEAcontactuswebsite@jaxenergy.com
Submit in person: Visit one of our Customer Center locations;

Midtown - 351 Dr. Martin Luther King Jr. Dr.
North - 2030 Pleasant Plains Extended.
Once your form has been received, one of our customer service representatives will call you to continue the process.
Note: Households are required to recertify annually for ACP.
Consumer Complaint Process: To file a complaint with the FCC regarding an ACP-supported service or any difficulty enrolling with a provider, use the FCC's contact center information: Phone Number: 1-888-225-5322, Video Phone Number: 1-844-432-2275, Website address: https://consumercomplaints.fcc.gov/hc/en-us